Florence served three tours of duty as a Peace Corps Volunteer in three different countries.
​During her tours, she learned first-hand how difficult it is for a foreigner to learn the local language, and to be able to understand the locals, especially while also working.
When she returned home to the United States, Florence was frustrated by people writing into the newspapers complaining that "these immigrants coming into our country should be speaking English." Remembering her time abroad and her childhood experience with immigrant parents, she knew that "these people" wanted to learn English but had many obstacles, such as transportation, money, and resources.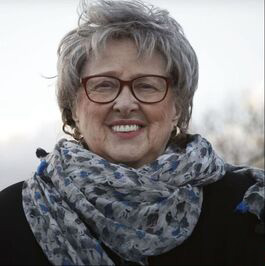 Florence resolved to do her part by eliminating those obstacles and began tutoring a woman in English. Soon the demand for her help grew to be much more than she could handle and she recruited others to help her. What started as a group of 24 tutors helping 41 students has grown to an organization serving more than 8,500 learners.
​2019 Civil Society Award Winner: English Language Learners In-Home Program
Florence Phillips has received the following awards:
2021 – Microsoft's "Women in Technology" Award (watch the Microsoft video with Florence here)
2020 – Governor's Points of Light Lifetime Achievement Award
2019 – Manhattan Institute Civil Society (read more about Manhattan Institute's $25,000 award to our program)
2019 – Non-Profit of the Year award (Carson Chamber of Commerce)
2019 – Medal of Valor, Simon Wiesenthal Foundation
2019 – Empowerment for Women Award
2019 – Soroptimist Ruby Award recipient
2019 – Subaru Corp – $50,000 award
2018 – CNN Top 10 Hero award, $25,000 award to our program
2016 – Volunteer Manager Finalist, Governor's Point of Light
2016 – Top Female Executive , IWLA
2016 – Soroptimist International of Carson City award
2016 – Carson City Chamber of Commerce: Awarded Women's History for Month of March
2015 – Soroptimist International Grant Award
2015 – AmeriCorps National Finalist
2014 – Leadership Award from AmeriCorps & Nevada Volunteers
2011 – Soroptimist International Ruby Award
2010 – Points of Light Institute Finalist
2009 – Points of Light Institute  Finalist
2009 – Citizen of the Year – Reno Gazette-Journal
2009 – Finalist, Governor's Points of Light, State of Nevada
2008 – Humanitarian of the Year, Nevada Appeal